LOUIS VUITTON Bedford Monogram, Vernis, VI0065, Weiß, Accessoires LV3613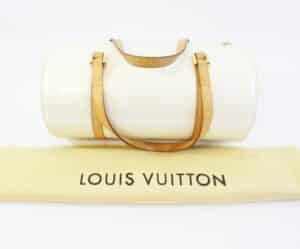 Länge / Length: 31 cm
Höhe / Height: 15 cm
Tiefe / Depth: 15 cm
Stempel / Stamp: Louis Vuitton
Material / Material: Vernis, Metall, Textil, Vachetta Leder
Zustand / Condition: Gebraucht (BITTE SIEHE FOTOS) / Used (PLEASE SEE PHOTOS) nach §25a Ust.G. wird die MwSt. nicht ausgewiesen Differenzbesteuerung
Data-Code / Ref.Nr.: VI0065
Standort / Location: Wollzeile 6-8, 1010 Wien, Österreich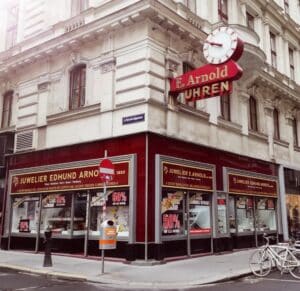 Looking for a specific item?
Please feel free to contact us!
Jeder zum Verkauf angebotene Artikel wird von unseren professionellen Fachexperten geprüft. Dadurch garantieren wir, dass alle unsere Artikel 100% original & authentisch sind.
All listed items are professionally examined by our expert staff to determine that every item going up for sale is 100% original & authentic, to give our buyers assurance.
Bitte beachten Sie, dass alle angebotenen Gegenstände gebraucht sind.
Please note that all items listed are previously owned.
Versand Methoden / Shipping Methods:
SELBSTABHOLUNG MÖGLICH – BITTE DAVOR PER TELEFON ODER NACHRICHT BESCHEID GEBEN!
Wir versenden weltweit per DHL Express Versicherter Wertversand
Versandkosten außerhalb Österreich und Deutschland auf Nachfrage
Ab €500 Warenwert erhöhen sich die Versandkosten – Details auf Nachfrage
We ship worldwide with DHL Express Insured Shipping
Shipping costs to countries other than Austria and Germany on request
From a value over €500 the shipping costs increase – details on demand
KOMBI-VERSAND Innerhalb von 2 Tagen (Ausnahmen / Verlängerungen möglich durch frühzeitige Anfrage)
COMBINED-SHIPPING Within 2 Days (exceptions / time extension made available through early request)
Wenn wir eine E-Mail erhalten in der Sie zusätzliche Zeit anfordern, werden wir den Zeitrahmen gerne verlängern. Wenn Sie an einer anderen Auktion teilnehmen möchten, schreiben Sie uns bitte zusätzlich das Auktions-Enddatum.
We will gladly extend the time frame if we receive an email requesting additional time if you have found another active auction beyond the 2 day rule. Please notify us of the additional auction end date.
Entnehmen Sie die genauen Versand Methoden für dieses Produkt den oben angegebenen Versandmethoden.
For detailed shipping costs for this item please refer to the shipping tab listed above
Alle anderen Länder auf Anfrage!
For all other shipping costs please contact us!
Bei Versand in das nicht europäische Ausland hat der Kunde eventuell anfallende Zollgebühren und Einfuhrsteuern selbst zu bezahlen.
Shipping into non European countries, any additional customs fees and import taxes will be the responsibility of the customer.
ANKAUF UND INZAHLUNGNAHME VON LUXUSUHREN, GOLD & BRILLANTSCHMUCK
Bezahlung / Payment
Wir akzeptieren folgende Bezahlungsarten / We accept the following payment methods:
Überweisung / Bank Transfer
PayPal
Barzahlung bei Abholung / Cash payment with Pick-Up